The tree for the Schönbrunn Christmas Market has been chosen. We take you on a search for the Christmas tree. Learn where the tree comes from this year and find a list of trees since 1994.
Every year we search of the perfect tree for the Schönbrunn Palace Christmas Market. The Austrian Federal Forests commission a forestry company in advance to search for suitable trees. It is important to know that not every tree is suitable for the Christmas market and that it must meet certain criteria, such as a minimum size of 18 meters.
This year we went to Lower Austria to the Waldviertel. My dear colleague Barbara Gobl (Project Manager of the Schönbrunn Christmas Market) and I - Sarah Schalamun (Online Marketing / Event Organisation) - left early in the morning from Vienna. Barbara already has a lot of experience with tree hunting and I took the opportunity to ask her everything I needed to know for my first tree hunt during the trip.
Arriving at the meeting point, full of anticipation, we set off in search of a tree with a forester from the Austrian Federal Forests. We were also accompanied by Peter Lepkowicz (Head of the Forestry Administration Source Protection of the City of Vienna), who provided us with his expert advice.  First we were shown the trees that had been selected in advance, but unfortunately they were not quite suitable for the Christmas market.
During the car ride, we kept a constant lookout for possible candidates and the experienced foresters talked about current topics such as tree populations and current difficulties in the forest. On the drive through the forest, we then discovered a beautiful spruce standing by the side of the road at a crossroads. We all immediately got out of the car and examined the specimen. Mr Lepkowicz immediately got out his special measuring tape and equipment to determine the age of the tree and began to examine it closely.  We knew the tree had potential! We took photos of the tree and asked our followers on Instagram how they liked it. The result was very satisfying, as 90% of the participants thought the tree was very beautiful.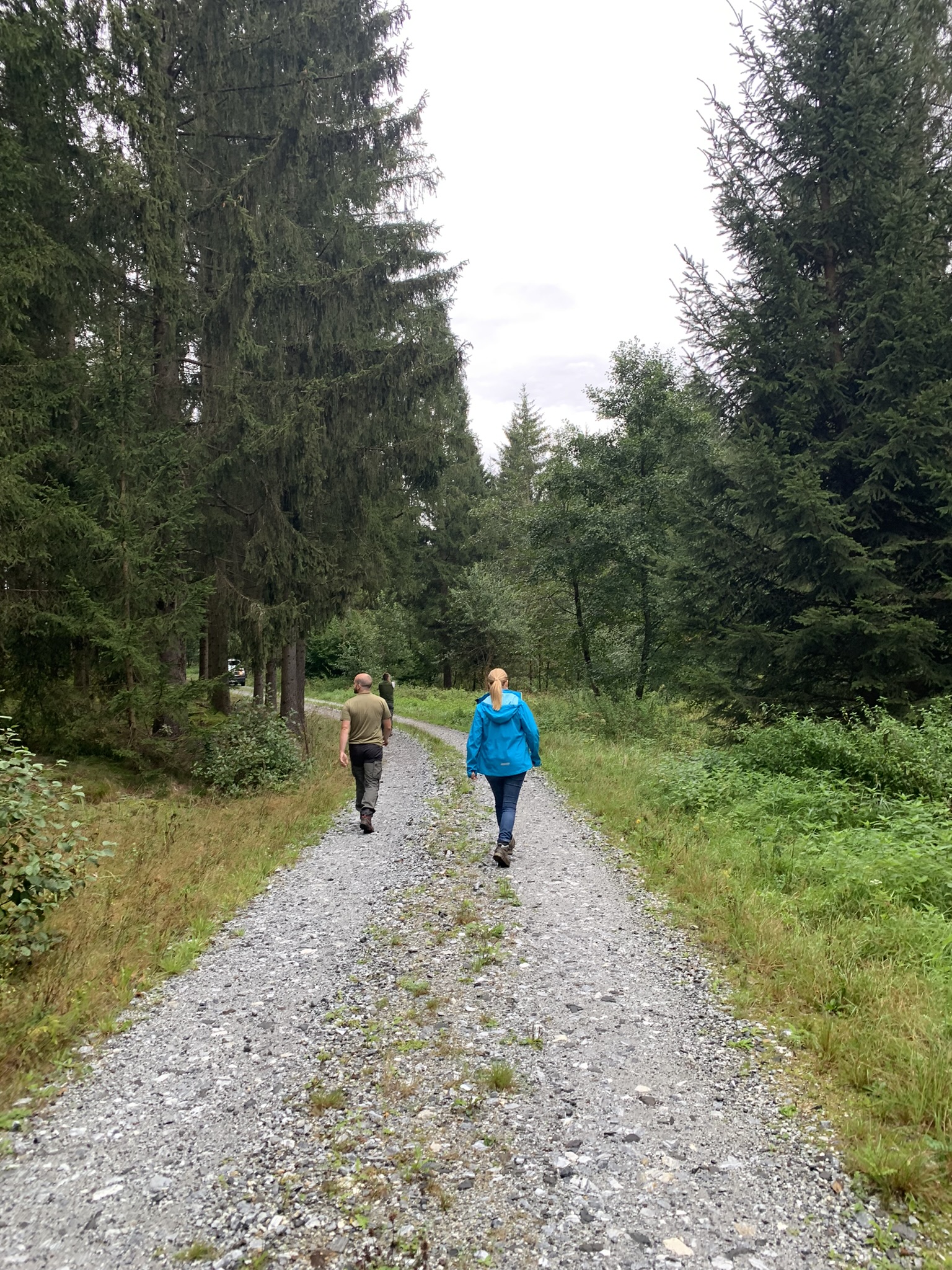 We drove to another tree candidate, but we liked the previous spruce better. So we finished our search relatively quickly and went back to the office in Vienna. It was a very interesting and exciting experience for me!
At the end of September, the final decision was made in favour of the spruce that stood by the wayside and had also found favour with our followers. The Christmas tree that will light up the Parade Court this year is a 90-year-old, 18-metre-high spruce from the Münichreith forest district of the Waldviertel-Voralpen forestry operation of the Austrian Federal Forests (ÖBf). The spruce will be harvested on 31 October and then travel to Vienna, where it will be erected on 2 November.
The previous tree donors and regions
1994: Steiermark Tourismus GmbH / Rosseggers Waldheimat – Steiermark
1995: Gemeinde und Tourismusverband / Zell am See – Salzburg
1996: Regionalverband / Ötscherland – Niederösterreich
1997: Gemeinde Fusch und Großglocknerhochalpenstraßen AG / Fusch am Großglockner – Salzburg
1998: Gemeinde und Tourismusverband / Leogang – Salzburg
1999: Naturparkverwaltung und Forstverwaltung / Naturpark Eisenwurzen – Steiermark
2000: Tirol Gemeinde und Tourismusverband / St. Anton am Arlberg
2001: Stadtgemeinde / Mödling – Niederösterreich
2002: Österreichische Bundesforste / Purkersdorf – Niederösterreich
2003: Österreichische Bundesforste / Mariazellerland
2004: Österreichische Bundesforste / Traun – Innviertel
2005: Österreichische Bundesforste / Flachgau – Tennengau
2006: Österreichische Bundesforste / Oberinntal – Tirol
2007: Österreichische Bundesforste / Waldviertel-Voralpen –Niederösterreich
2008: Österreichische Bundesforste / Gusswerk – Forstbetriebe Steiermark
2009: Österreichische Bundesforste / und Habsburg Lothringen´sches Gut Persenbeug
2010: Österreichische Bundesforste / Forstrevier Droß
2011: Österreichische Bundesforste / Gusswerk – Forstbetriebe Steiermark
2012: Österreichische Bundesforste / Salzburger Pongau
2013: Österreichische Bundesforste / Forstrevier Steyrtal / Forstrevier Phyrn
2014: Österreichische Bundesforste / Forstbetrieb Traun-Innviertel, Forstrevier Traunstein
2015: Österreichische Bundesforste / Forstbetrieb Inneres Salzkammergut, Forstrevier Alt-Aussee
2016: Österreichische Bundesforste / Forstbetrieb Unterinntal, Forstrevier Brixental
2017: Österreichische Bundesforste / Forstbetrieb Flachgau – Tennengau
2018: Österreichische Bundesforste / Forstrevier Bruck an der Großglocknerstraße, Forstbetrieb Pinzgau
2019: Österreichische Bundesforste / Frostbetrieb Wienerwald, Forstrevier Klausen
2020: Österreichische Bundesforste / Frostbetrieb Steiermark, Forstrev. Mürzzuschlag
2021: Österreichische Bundesforste / Frostbetrieb Steyrtal, Forstrevier Molln