Fulfil the heartfelt wishes of disadvantaged children
SOS-Kinderdorf wishing tree
Every year MTS Wien, organiser of the Schönbrunn Christmas Market sets up an SOS-Kinderdorf wishing tree in aid of disadvantaged children.Remember that it is only through your assistance that SOS-Kinderdorf can operate.
How you can help
SOS-Kinderdorf donation package
1) Select a golden wish slip from the SOS Kinderdorf wishing tree at Schönbrunn Christmas Market with the donation package you wish to support.
2) Obtain the desired donation package from our SOS-Kinderdorf partner page or make the donation directly in cash at the information hut.
Your donation to SOS-Kinderdorf is tax-deductible..
SOS-Kinderdorf wish list
1) Pick a red wish slip from the wishing tree at the Christmas Market.
2) Reserve the wish and leave your contact details at the information hut.
3) Obtain the present.
4) Wrap the gift for Christmas.
5) Play Santa Claus by leaving the gift until 18 December at the Christmas market at the information hut. Please also bring the picked wish list with you.
6) MTS Wien will pass on all gifts to the children in good time for Christmas.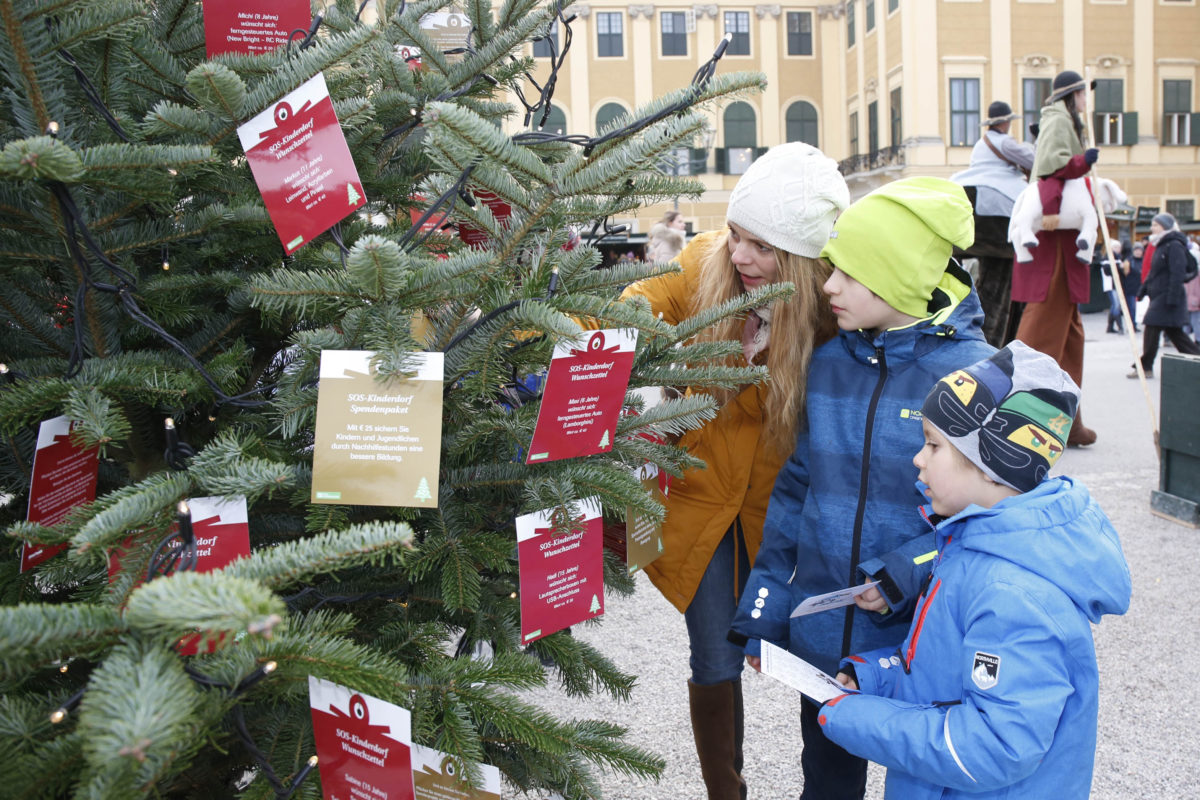 ---
Donations for a vital conversation
Coin fountain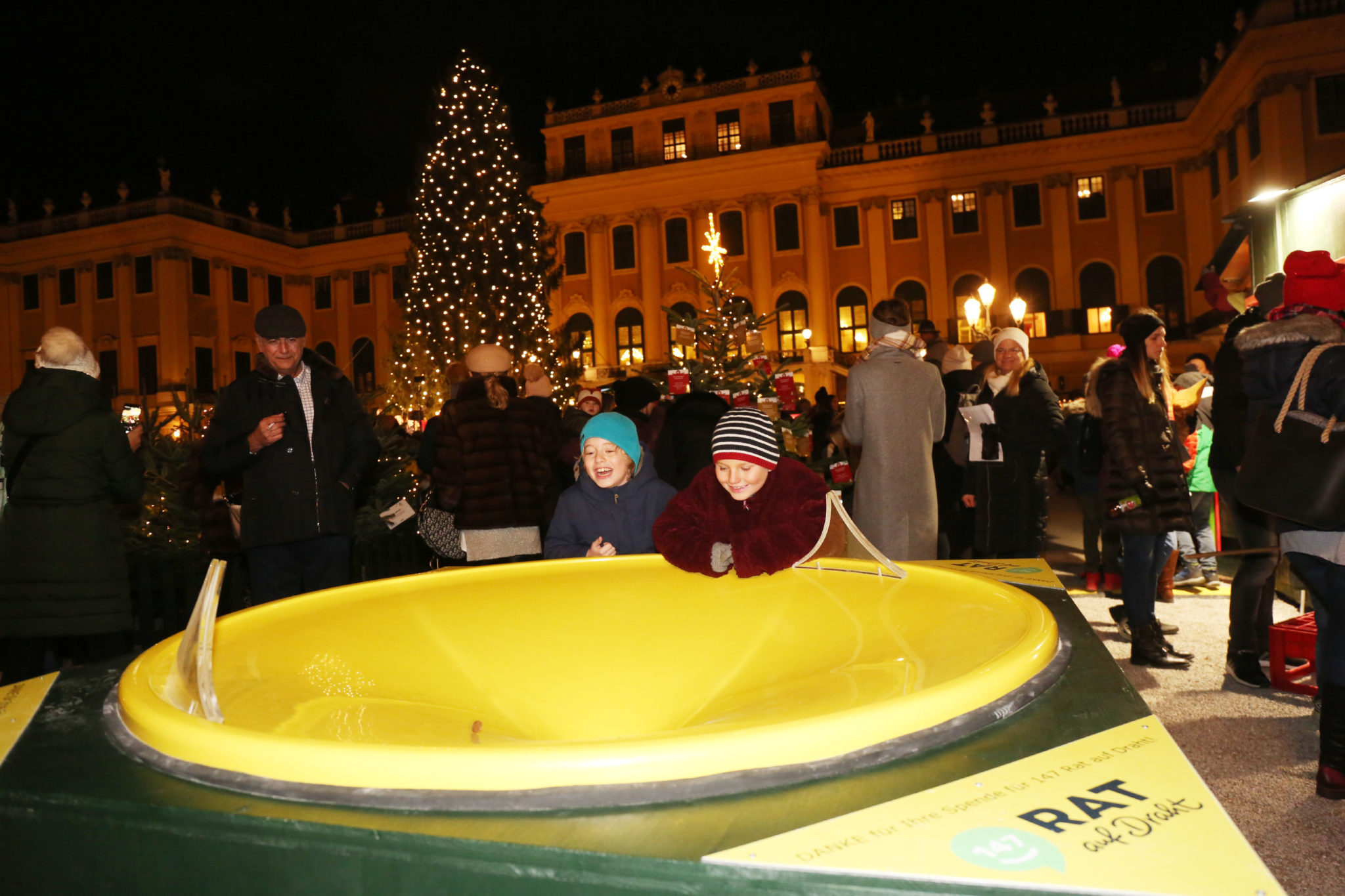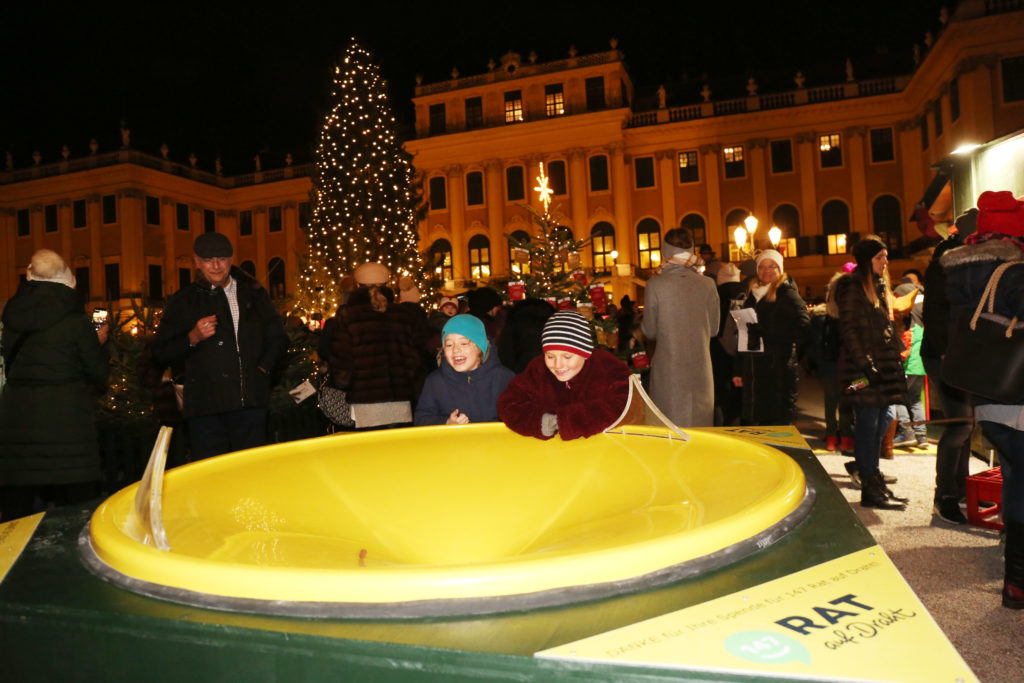 Lassen Sie die Münzen rollen und unterstützen Sie so die österreichische Notrufnummer 147 Rat auf Draht.Since 2014 this hotline has supplemented the comprehensive services offered by SOS-Kinderdorf to deal with problems, questions and crisis situations for children, juveniles and their parents or guardians. The number can be called 24/7 anonymously and free of charge.
The coin fountain in support of the free telephone hotline is next to the SOS-Kinderdorf wishing tree in the middle of the Market.
Additional information on all charity activities at the Christmas Market can be obtained by writing to weihnachtsmarkt@mts-wien.at or calling +43 (0) 1 817 4165–0.
Thank you for your support!