You are probably familiar with this: There is always a lot of rubbish over the holidays. Wrapping paper, boxes, leftovers, ... the bins are overflowing. It's not much different for us at the Christmas market. Sustainability has therefore played a major role for us since the very beginning. Everyone can and should make a contribution. We also try to implement as many measures as possible at our events.
Our infrastructure and decorative elements are mainly made of wood and are reused for years – except for the Christmas tree, of course. It comes from a different region every year and has been "recycled" in a very nice way since 2008.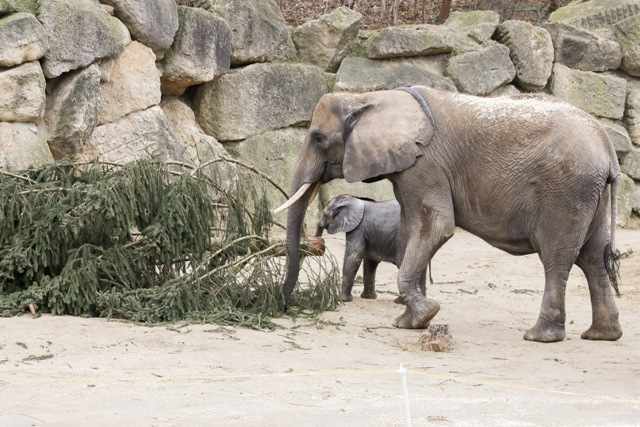 You may have heard that we traditionally hand over our Christmas tree to the elephants at Schönbrunn Zoo. For us, this is a cherished New Year's tradition and we can't imagine a more beautiful way to close the market. This year the tree will be handed over on Tuesday, 11 January 2022 at 9.30 am . Spectators are very welcome! We are looking forward to seeing how the elephants like their present. Follow us on Facebook and Instagram to find out more ...
Other measures at a glance:
Christmas tree decorated with LEDs (since 2008)
Thanks to modern LEDs, Christmas tree lighting consumes only a fraction of the energy of traditional light sources. Generally, a power-saving LED lighting system is used.
Plastic ban, waste separation and avoidance
A clear NO to plastic – and this since the market's beginnings in the 1990s. Since the beginning, wrapping paper bags have been compulsory. Since 2011 there have also been cloth bags. The caterers use only compostable disposable tableware made from rapidly renewable, vegetable or recycled raw materials from the Duni series BioPak. These disposable packages are not only produced sustainably, but also offer other advantages: they improve hygiene and help maintain high hygiene standards. They can save the water, energy and labour required to clean reusable items. Porcelain mugs are used for serving hot drinks. Appropriate waste separation goes without saying.
Climate-neutral printed matter
Our flyers and folders are produced as environmentally friendly as possible (PEFC and FSC Print-CO2 tested). Where possible, we use online instead of print.
Selection of products and exhibitors
Artisans and regional manufacturers from Austria and the surrounding area, who predominantly produce all their products themselves, are given preference in the selection of exhibitors. Fair and sustainable production is one of the most important selection criteria.
Gastronomy
Seasonal and regional food and drinks as well as vegetarian and vegan alternatives are important to us and we want to push them even more. Designated organic drinks complement the offer.